I should learn to complain more often. It is quite amazing when it produces results afterwards. Slight tweak in strategy and bingo!
47 tries left. Twins is the nuisance now, but I think we got a tip-top strategy for that now. We will be getting Insanity in no time!
Still recruiting by the way! And I still love holy paladins!
Windows 7 comes out on Thursday. It is a definate must-buy if you hated Vista. I was one of those people. I got mine through the MSDN, RTM version. Unfortunately, in the midst of switching over to 7 from Vista, I forgot some things...

Ventrilo refused to work in 7 because of the lousy investment I made a few months ago. Yes, I bought one of those Killer NIC cards. $200 investment never really paid off. Uninstalled the damn thing and Vent resumed working. But that didn't stop the ridicule.

Anyways, throughout our WoW adventures people have gotten considerably larger bags. Fianguard, or Finagle, doesn't like to upgrade bags and would rather carry useless shit.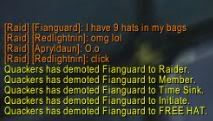 Finally, few months ago, I got the Foam Sword Rack from the TCG. I usually place it down here and there. Some people don't like to join in the fun. Their loss. But this, I don't know, what do you think?